NOTE:

The costume standards are a guide, yet are not an all inclusive outline of required elements. The judges will be looking for quality of workmanship, accurate execution and use of materials in addition to these general standards check lists. If you have a question about fabrics, colors, and parts choices for your build please contact the LCJs for your category about parts/materials you are considering before you start your build. (LCJ listing here)



Old Republic Pilot Costume Standards





Naboo N-1 Pilot (Episode I: The Phantom Menace)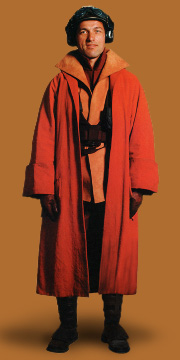 Required Items:
Burgundy or reddish-brown undershirt. Mandarin-style collar seams attach in front - can be worn either open or closed up the neck. No exposed closure.
Suede or suede-like light orange or natural buff colored underjacket with large fly-away collar. Hem length should hit at upper thigh level. No exposed closures (snaps, buttons, etc.)
Dark orange/pumpkin outer-jacket made of a heavy-weight or sueded material with large cuffs. The underjacket lapels should show on top. Outer jacket has large, diagonal exterior (or mock-exterior) pockets with a squared-flap. Pockets are located at hip or upper thigh level.
Burgundy or reddish-brown pants. Color should be a close match to the undershirt.
Medium to dark brown leather gloves. Close fitting, with short cuffs (not gauntlets).
Dark brown leather belt & harness w/appropriate pouches and straps.
Low-heeled medium to dark brown boots with matching-color Naboo-style strapping pattern/spats (like Padme's Battle Outfit).
Recommended:
Naboo N-1 flight helmet (with goggles attached preferred, but optional)
Costume Resources:




Revised June 1, 2010


===========================================


Naboo N-1 Pilot (Episode II: Attack of the Clones)



Required Items:
Medium reddish brown or dark tan long sleeve suede or moleskin overshirt
Orangish red sueded cloth pants with no visible pockets.
Black cloth ribbed neck seal that can be just a "dickie" or attached to undershirt
Charcoal gray/grayish teal leather or pleather V neck vest that is longer in the back with side closure and double line piping.
Brown belt with leather buckle and silver or brass square inset and 2 belt pouches, one on each side
Brown knee-high boots with Naboo-style strapping spats (like Padme's Battle Outfit).
Medium reddish brown or dark tan leather gloves
Dark brown leather or leather-like bracers/gauntlets with double line piping.
Optional Items:
Naboo N-1 flight helmet(with full faceshield).
Accurately-styled Naboo fighter pilot blaster attached to belt via covertec clip.
Revised June 1, 2010

Clone Pilot standards moved here