For the Month of August, the

Endor Base Member of the Month

is none other than

CooR

. He's been with the Rebel Legion for quite a while and has a great variety of costumes including being our first featured member to have a certain scruffy nerf herder.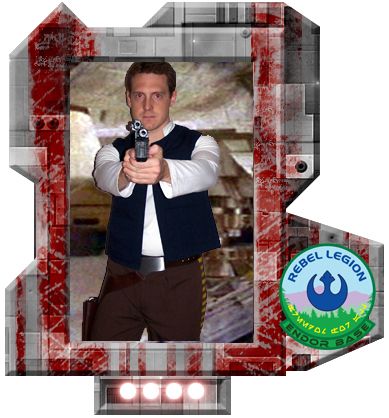 Tell us something about yourself:

Well, I'm originally from Texas. I'm married 6 years with one kid. I've lived on the island of Alameda, on and off, since 2002. Meet the guys from the GGG at the Jack London Square EP3 opening night showing, way back when, which is what got me going into SW costuming. My only claim to fame within the two groups is being one of three founding members of the 501st unit in Louisiana and one of the 10 for the Rebel base there as well.




How long have you been involved with the Rebel Legion?



Since FEB 2008 according to my profile.




Positions held (past or present)?



Nothing within the RL, but I was the first Squad leader for the Louisiana 501st unit and first XO for it's garrison.




What costume(s) do you have?



For the RL I have the X-Wing Pilot, RFT, cartoon Gree and a Solo.
For the 501st: TK, TD, TB, TS, TI, TR, TR-S, ID, IG, IN, RC-S & CC


What costumes do you have in the works (if any)?

I have a Jedi that I need to resubmit, I just have to re-find all the pieces.




Do you have a favorite Troop/event?



Hospitals visits have always been a favorite. I'm always a stormtrooper, as I need the helmet, because those can be tough, but are the best.




What is your first Star Wars memory?



Watching ANH with my dad every other weekend and going to TRU for SW toys.




Favorite Star Wars movie?



ANH




Favorite Star Wars Character?



Stormtroopers all the way, then Jedi.
_________________


Endor Base Commanding Officer 2015-2018



Proudly serving the Rebel Legion as Jek Porkins, Willrow Hood,
RFT Gareth Ward, Jedi Knight Wren and 3 Yavin Trooper Techs!

Member of K.J.O. - R.L.S.C. - U.C.G.R - R.A.I.D.