For the month of July, the Endor Base Member of the Month is

DerekM1767

. Derek has been with the Rebel Legion for quite some time, joining in 2008 and has been Regional Captain for central California for a few years now.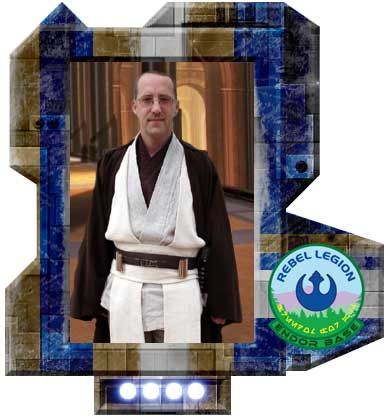 Tell us something about yourself:

- My name is Derek Mazer. I started out as a Star Wars collector. One day (in 2004) when searching for collectables I ran across a post on a forum known as "The Force.net". I posted in the forum which, had little activity and only 6 members, and within a month a meet up was scheduled at our local Barns and Noble. I went and to my surprise one person was dressed up in a costume and greeted me. To be honest I wondered what I was getting myself into by attending (I had no desire to costume), I was all about the toys. Over the next few months we became fast friends and our little corner of the fanforce galaxy began to grow to the point we outgrew fanforce and needed to start a new fan club, The Twin Suns. Many of our members were originally not costumers, but like myself they came around and started to costume and do events. It's hard to believe I have been doing this, for this long already. It's been a blast. I have meet some great people, made long lasting friendships and while their have been a few bumps in the road, that is to be expected (it's part of life). I look forward to continue meeting new like minded people, attending the great events yet to come, and spending quality time with the friends I have already made.




How long have you been involved with the Rebel Legion:



- I officially became a member in 2008-09. I had been trooping with RL members since 2006-05 as a 501st/TTS member.




Positions held (past or present)?



- Trading Card Team (2013-Present)
- Regional Captain (2014-Present)




What costume(s) do you have?



*Rebel Legion:
- Jedi - Generic
- Jedi - Watson (Holmes/Watson mashup)
*501st Legion:
- Royal Guard (ROTJ)
- Shadow Guard (Comic/Hasbro)
- Carnor Jax (Comic)




What costumes do you have in the works (if any)?



- Clone Commander Devis
- Stormtrooper (ANH)
- Mandalorian (Custom)

Costumes I would like someday:

- X-Wing Pilot (ANH)
- Rebel Fleet Trooper
- Imperial Officer
- Senate Guard (ROTS)
- Imperial Knight
- Stormtrooper (TFA)




Do you have a favourite Troop/event:



- From 2008-2012 It was Legoland.
- From 2013-2015 it's been a new event we started attending called "Breakfast With Santa". The host(s) bus in 500 homeless kids and their families and provide them breakfast and each child visits Santa for a gift. There are over 100 characters from all genre, me of course representing as a Star Wars chr. This is by far the most rewarding event.




What is your first Star Wars memory?



- My first memory is watching the Star Wars movie on the big screen when I was 10. I remember wanting to see it over and over. When the toys were released I had to have them, saving everything I could to buy new figures. So began my collecting obsession that continued up until Clone Wars cartoon. I then switched to only costuming and Star Wars weapons. I sill have a massive collection of toys in the garage.




Favorite Star Wars movie:



- Return of the Jedi




Favorite Star Wars Character:



- Yoda




Any Social Media/Business to plug??



- I am a proud member of the Rebel Legion, 501st Legion, The Twin Suns: Star Wars Fan Club (which I have run/assisting running for many years) and hope to join the Mandalorian Mercs when I get a Mando done.

- I am also the owner/event manager for the Tulare Sci-Fi Con in the city of Tulare. Next one is hopefully March 11-12, 2017. www.tularescificon.org

- My real job, yes I have one of those to. I have been working for the State of California for the past 26 years. I am currently a Senior Information Systems Analyst.[/b]
_________________


Endor Base Commanding Officer 2015-2018



Proudly serving the Rebel Legion as Jek Porkins, Willrow Hood,
RFT Gareth Ward, Jedi Knight Wren and 3 Yavin Trooper Techs!

Member of K.J.O. - R.L.S.C. - U.C.G.R - R.A.I.D.