I'd like to continue celebrating Endor Base and its members by featuring another Endorian. This months selection is our Solano County Base membership officer: Boj Vaati Mau - Jim C..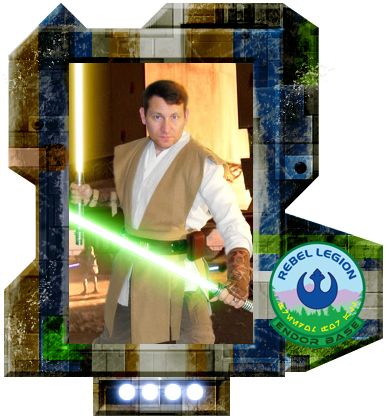 Tell us something about yourself:



I'm Jim Cullum, born in CA, joined the Air Force after high school, stationed at Mather AFB in Sacramento for 4.5 years, stationed at KI Sawyer AFB in Upper Michigan for two and a half years, lived Minnesota for 15 years, and back in California since '07. Started costuming when I was 12 as the cowboy version of Ghost Rider, hit my first gaming con, GrimCon in, '80 when I was 15 and my first Star Trek con the next year and dressed in costume. Been going to cons off and on for the past 34 and have competed in masquerades at the regional level in 4 different state, worked as camera man at 2 of the three WorldCons I've been to, and performed twice with Saber Guild: Golden Gate Temple and Outer Rim Temple, and helped out at the Legion photo booth at Celebration Anaheim. I judge costume applications for Saber Guild, am a cohost and audio engineer with Endor Cast, assemble light sabers for friends, and do occasional freelance costume work.




How long have you been involved with the Rebel Legion:



I officially joined the Legion in September or October in 2013. In a way I've been involved since '77 but never felt I was good enough to get in till The Jedi Assembly took me in. That and Angel Martinez said that I should be fine to get in. This led to my first troop in December at the Tech museum for the Star Wars: Where Science Meets Imagination.




Positions held (past or present)?



Currently the Area Captain for Fairfield/Vacaville and cohost/engineer of Endor Cast: the official podcast of Endor Base.




What costume(s) do you have?



I only have my Jedi, Boj-Vaati Mau.




What costumes do you have in the works (if any)?



I would love to do Clone Captain Keeli and a Y-wing pilot. I don't really look like anyone and I've always thought it'd be cool to be my own character in the Star Wars universe.


Do you have a favourite Troop/event:

The ones that I've done all have great memories! The Tech was my first and I enjoyed meeting new folks, impressed the folks going there, and had a great time teaching some basic light saber techniques. I trooped the Modesto Pop Culture holiday parade which let us interact with the good folks of that city en masse. C VII was just amazing and the phot booth was a lot of fun and was it really fun to see the smiles on folk's faces.


What is your first Star Wars memory?

"It's a story about a boy, a girl, and a universe!" Man, did it look cool but not as a rom-fi!
I think we decided to go after the revised trailer came out. The next major one was in the Grad Lake theater in Oakland, front row, having the hair on my arms stand on end as the music boomed! That and the Star Destroyer! It was frakkin' AMAZING!




Favorite Star Wars movie:



Star Wars was great but Empire was awesome! Empire added so much complexity to the universe and depth to the characters. It was the right time for the age I was as I was for Star Wars.




Favorite Star Wars Character:



Obi-Wan/Ben Kenobi still. There's a lot of flaws that were written in later but the noble sacrifice on the Death Star still gets to me.




Any Social Media/ web pages to promote?



www.endorcast.podbean.com , www.facebook.com/Ripperblades, www.thecustomsabershop.com, www.therpf.com, www.corellianimports.com,
_________________
- Draeden Wren

Until we reach the last edge, the last opening, the last star, and can go no higher. - Enfys Nest