Crossposts:

http://www.501st.com/forum/viewtopic.php?f=4&t=84320
http://www.forum.rebellegion.com/forum/viewtopic.php?t=61919

Hi, folks!

I write as the CO of the 501st Legion's Singapore Garrison. I had issued an invite to all 501st and Rebel Legion units within Asia to the Chingay Parade 2015. This post lists useful information
If you have further queries, please PM me. If you're a RL trooper from outside Asia but you'd like to troop with us as well, you're most welcome!



Basics



Dates: 27 (Fri) and 28 (Sat) February 2015.
Venue: Formula 1 Pit Stop building
Secure Luggage and Changing Room: Yes, within the F1 Pit Stop building.

Unfortunately, although Disney thought of supporting us this year, they decided the timing was more suitable for Cinderella. So, this trip has to be entirely self-financed. However, I've listed some of the better budget hotel options below.



FAQs

(WIP)

Q: Will we be walking on water again?
A: No.

Q: Will we be walking under fire again?
A: No, but ... we might end up near a bunch of fire-eaters. Still under negotiation.

Q: Can we store our stuff at the venue and change up there?
A: Yes, and you can keep them there overnight for the next day. In fact, we plan to stash our costumes there the day before.



The 2012 Parade



The previous parade report has been truncated on the Mission Reports forum, so I've attached a PDF to this post (scroll to bottom).



Locale



Here's a location of the general area:



The F1 Pit Building is the one on the left, near the sea, with a black and white chequered flag.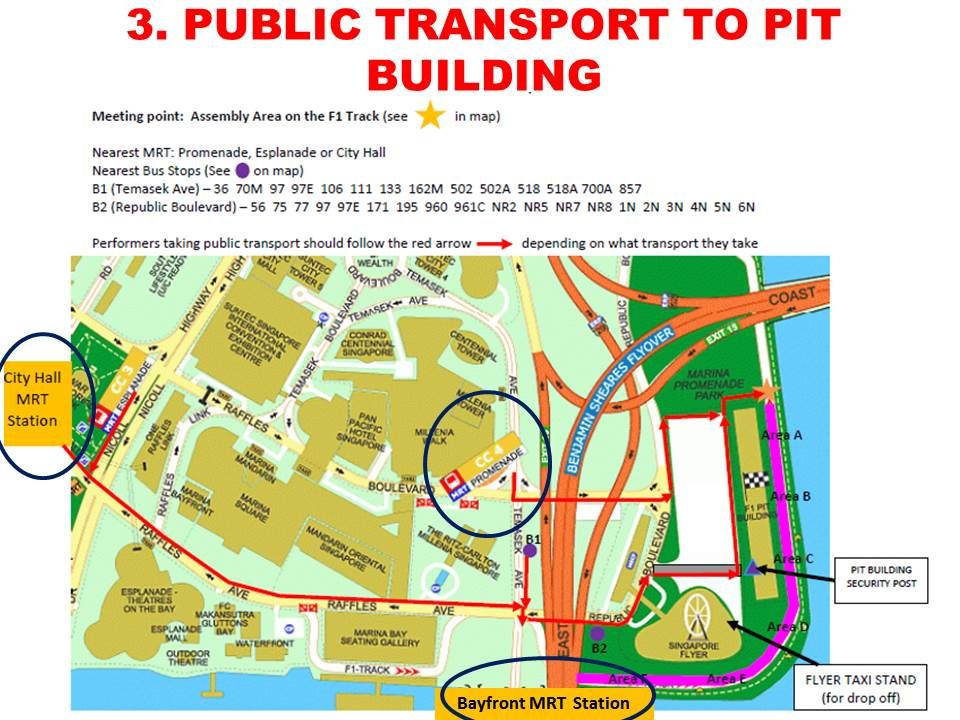 HOTELS



[size=80]

TOP-END



Top-end hotels near the venue are those you can see on the map:

Ritz-Carlton Millenia - http://www.ritzcarlton.com/en/Properties/Singapore/Default.htm
Mandarin Oriental - http://www.mandarinoriental.com/singapore/
Pan Pacific Hotel - http://www.panpacific.com/en/hotels-resorts/singapore/marina.html
Marina Mandarin - http://www.meritushotels.com/marina-mandarin-singapore/default-en.html
Conrad Centennial - http://conradhotels3.hilton.com/en/hotels/singapore/conrad-centennial-singapore-SINCICI/index.html



MID-RANGE





All rates below are from AGODA. These hotels are a little further from the venue but not too far away.



IBIS HOTEL @ BENCOOLEN
170 Bencoolen Street Singapore 189657 (15-20 mins walk to Bugis MRT)
Standard Twin Bed Room
SGD 148 / room / night (for 2 pax)
Total for 2 rooms 4 nights = SGD 1,184
- free wifi in all rooms and public areas
http://www.ibis.com/gb/hotel-6657-ibis-singapore-on-bencoolen/index.shtml

PARC SOVEREIGN HOTEL
175 Albert Street Singapore 189970 (15-20 mins walk to Bugis MRT)
Superior Room (double sized bed)
SGD 127.20 / room / night (for 2 pax)
Total for 2 rooms 4 nights = SGD 1,017.60
- free wifi in all rooms and public areas
http://www.parcsovereign.com/parc-sovereign

HOTEL GRAND PACIFIC
101 Victoria Street Singapore 188018 (in between Bugis MRT and City Hall MRT, both about 15-20 mins walk)
Deluxe room (twin beds single)
SGD 150 / room / night (for 2 pax)
Total for 2 rooms 4 nights = SGD 1,200
- free wifi in all rooms and public areas
http://www.hotelgrandpacific.com.sg/default-en.html

V HOTEL BENCOOLEN
48 Bencoolen Street, Bugis, Singapore 189627 (in between Bugis MRT, Dhoby Ghaut and City Hall MRT, both about 15-20 mins walk)
Superior Twin Room (twin beds single)
SGD 145.28 / room / night (for 2 pax)
Total for 2 rooms 4 nights = SGD 1,162.24
- free wifi in all rooms and public areas
http://www.vhotel.sg/bencoolen/

HOTEL BENCOOLEN
47 Bencoolen Street, Singapore 189626
Standard Twin Room (twin beds single)
SGD 100.25 / room / night (for 2 pax)
Total for 2 rooms 4 nights = SGD 802
- free wifi in all rooms and public areas
http://www.hotelbencoolen.com/



HOSTELS / BACKPACKER INNS





All rates below are from AGODA. These place are even further from the venue than the mid-range places.





City Backpackers @ Hong Kong Street


18 Hong Kong Street (5-10 mins walk to Clarke Quay MRT)
4-bed quad room with shared bathroom (price per room)
SGD 112.29 / night / room for 4 beds (if book early)
SGD 147.27 / night / room for 4 beds
Total for 4 nights = SGD 449.16 or SGD 589.08
http://www.citybackpackers.com.sg/



Backpackers' Inn Chinatown


30A Mosque Street S059508 (5-10 mins walk to Chinatown MRT)
Private 4-bedded room
SGD 100.00 / night / room for 4 beds
Total for 4 nights = SGD 400.00
http://richlodging.com/backpackers-inn-chinatown/



Traveller@SG Hostel


111H King George's Avenue Singapore 208559 (10-15 mins walk to Lavender MRT)
4 bed mixed dorm (price per bed)
SGD 25.45 / bed / night
SGD 101.80 / night / room for 4 beds
Total for 4 nights = SGD 407.20
http://www.bpsg.com.sg/



ABC Hostel


3 Jalan Kubor, Singapore 199201 (15-20 mins walk to Bugis MRT)
4 bed dormitory
SGD 28 / bed / night
SGD 112 / night / room for 4 beds
Total for 4 nights = SGD 448
http://www.abchostel.com.sg/



Sleepy Kiwi Backpacker Hostel


55 Bussorah Street, Singapore 199471 (10-15 mins walk to Bugis MRT)
4 bed mixed dorm (price per bed)
SGD 32.50 / bed / night
SGD 130 / night / room for 4 beds
Total for 4 nights = SGD 520
OR
Private 2-bed dorm (price per room)
SGD 96.50 / room / night
SGD 193 / 2 rooms / night
Total for 4 nights = SGD 772
http://www.sleepykiwi.com.sg/



Rucksack Inn


280 Lavender Street, Singapore 338800 (not near any MRT)
Quad Room (price per room) <-- 1 queen bed and 2 bunk beds
SGD 140 / night / room
Total for 4 nights = SGD 560
http://www.rucksackinn.com/lavender.php



Hometown Inn


229 South Bridge road Singapore 058778 (5-10 mins walk to Chinatown MRT)
Single bed in standard quadruple room
SGD 30.13 / bed / night
SGD 120.52 / night / room for 4 beds
Total for 4 nights = SGD 482.08



Drop Inn


247 Lavender Street, Singapore 338763 (not near MRT)
Family Room (price per room) <-- 1 queen bed and 2 bunk beds
SGD 118.73 / night / room
Total for 4 nights = SGD 474.92
http://dropinnsingapore.com/[/size][/quote]