This will be YEAR 2 for this convention so it's a wee baby still. It had a great turn out last year over 1200 people attended the convention and the guests they got to attend were great and so was the Spoony Band who played all day for us and from what I understand from people that stayed in the hotel most of the night.
I attended for only two days. I would have done three but I didn't have a ride to the hotel for Friday so I missed most of the opening events and late night partying.
This is Michigan's first REAL Anime convention and of course like some other people did you are more than welcomed to dress up as someone non-anime related.
We had people who just taped notes on shirts that would say: "Free Hugs!" my friend Meg saw one about something related to drawing, can't recall just what it was.
I dressed up as Edward Elric the FullMetal Alchemist, only with a joke that nobody believed I would follow through with on cosplay.com. This one girl who dressed as Winry and I had a little duel...So the Duel was what was stronger?
The Wrench of Doom! OR The transmuted lightsaber!
Well to make a long story short. The lightsaber beats wrench.
We had two voice actors from the FullMetal Alchemist English dub with us. Winry and Ed's. I got my Edward Elric Movie plush signed by Vic.(Ed's voice)
They had an area setup for Artist Alleyway for people to sell art and what not and the people in it were wonderful to talk to and friendly and this one girl I talked to I must have spent an hour with her chattering about YAOI(male/male romance).
They had rooms for drawing, movies playing all night. They had on Friday night a dance party and a live DJ if I recall. I'll have to see if I still got my booklet or not, but they also have game areas, and game tournaments. I was going to join the Tekken 5 one, but I ended up missing it Saturday and went over to get pizza with my group.
Spoony Bards Band on our return back was playing some Star Wars music so I cheered on for more of the music. Took pictures of people, chat and mingled with other swapped e-mail addresses and DA names too.
Sunday I had more fun since I met Jay(the Sith fellow in the pictures) and Ben(the Obi-Wan) I stalked them for the most part of the day and we've been talking since Nov and plan to do a little Star Wars Cosplay.
I will wear my Jedi outfit all three days, but I'll be moving in and out of costume Fri and sat. I will be taking three with me and these are it.
Red Padme/Hathor Kenobi's disguise outfit(last minute thing I did for SW EP III DVD release)

Edward Elric outfit(not certain I'll even get to wear this. My friend if she attends will be wearing it)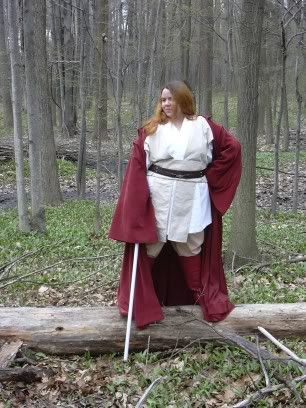 To see pictures of YOUMACON click here:
http://photobucket.com/albums/c196/hathor_sg1x
If you'd want to join us for the SW group let me know I need to let LINK(photo guys name) if we will have a large group.
ALSO! If you stay at the Hotel be sure to say when you call and reserve a room you are attending YOUMACON to get the discount.
Website to YOUMACON: http://www.youmacon.com