**WILL BE ADDING MORE PHOTOS SOON!!**
For the aspiring rebel pilot, why not try your hand at flying the B-Wing..
I think the costume can be overlooked as there are few good reference photos but I have done my best with what I had and hopefully you will think it's not a bad effort!
So here's the finished costume...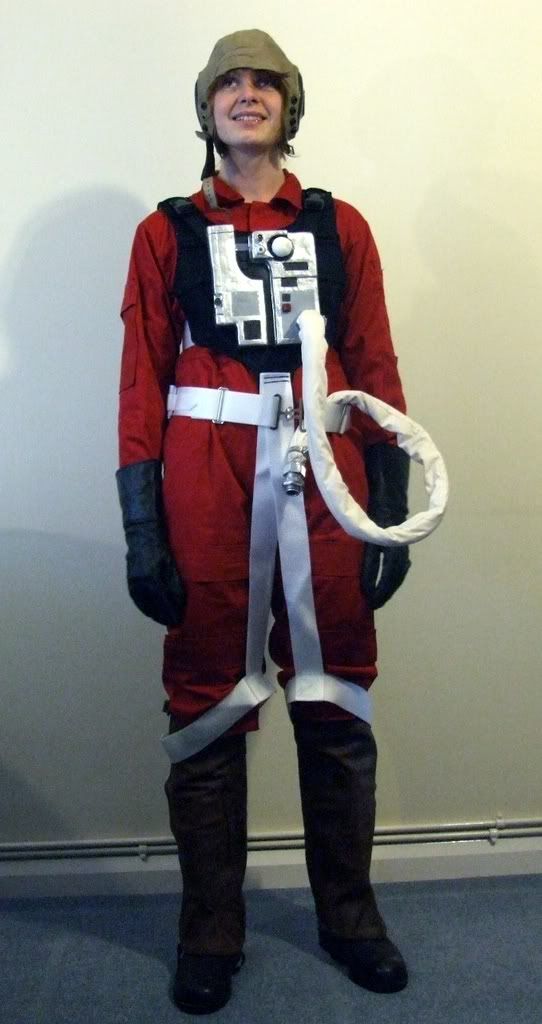 Aw I look so happy!

And here's how I came to that ----->

I started by reviewing the costume requirements!
Always a good place to start for ALL costumes!!

http://www.rebellegion.com/forum/viewtopic.php?t=16674


So, from the bottom to the top;




THE BOOTS



I used German Knobbelbecher boots purchased from eBay. Woo!



THE SPATS/GAITERS



I bought, from eBay again, a pair of tan leather half chaps.



THE RED FLIGHTSUIT



From eBay again, I purchased 2 Dickies children's 34" coveralls. One for the main flightsuit and the other as a sacrificial source of fabric for pockets!




I used the above X-Wing Flightsuit modification picture to work out roughly where the pockets needed to be and how big they should be and like the true seamstress I am I used wonder webbing to iron all the pocket mods onto the flightsuit!




WHITE WEBBING BELT



The wonderful resource that eBay is, I bought a large wrap of white webbing for this and the harness.
I also bought the belt buckle from the Bay... I chose a buckle like this..
http://cgi.ebay.co.uk/2-INCH-2-SILVER-COLOURED-BELT-BUCKLES-LOT-OF-2_W0QQitemZ370250979887QQcmdZViewItemQQptZUK_Crafts_Sewing_Supplies_MJ?hash=item5634ad9a2f&_trksid=p3286.c0.m14
And the mini flares I used were little hardwood pegs used for venting beer barrels that i had sprayed silver. They only tapered a little bit but this helps to stop them sliding out of their fastenings...



THE GAUNTLETS



I bought these in black! They're perfect!

http://www.silvermans.co.uk/ProductDetails/tabid/89/Department/Military/Category/GLOVES/Description/CEREMONIAL+LEATHER+GAUNTLETS/ItemId/3348/Default.aspx



THE FLAK VEST AND HARNESS



(When I have time I'll make a pattern for this)
I first made the vest out of a polyester fabric which was too light so I backed it with denim and used soda pipeline for the ribbing.
I butchered the straps on an old rucksack i had for the small quick release buckles

I also very cunningly sewed (why does that word not look right?) velcro onto the front of the vest for attaching the chestbox to...
The front of vest is where the webbing harness is attached to with 2 stitched lines!!



THE CHESTBOX AND CLOTH HOSE



This was the most difficult aspect of the costume to fabricate. I have measurements but I need to draw a picture for them to make sense!
I used Kingspan (wall insulation foam board) as a base and measured and chopped, measured and chopped and when i had the shape i wanted. I then covered it in car body filler, sanded and painted! I added a scart lead head for detailing...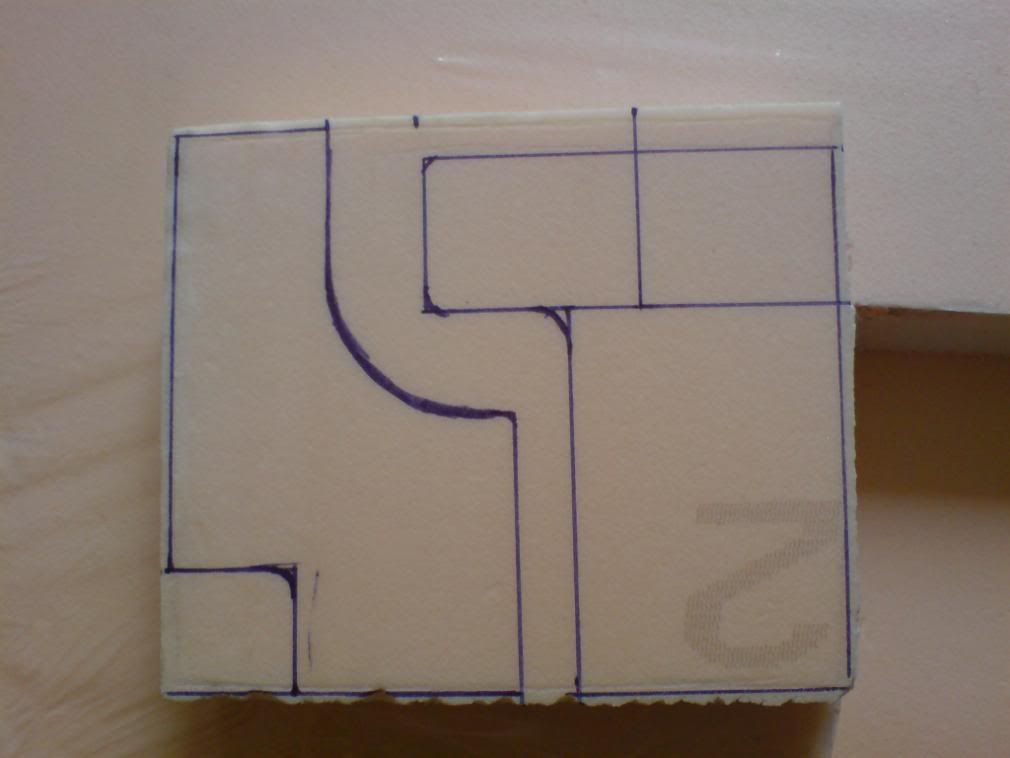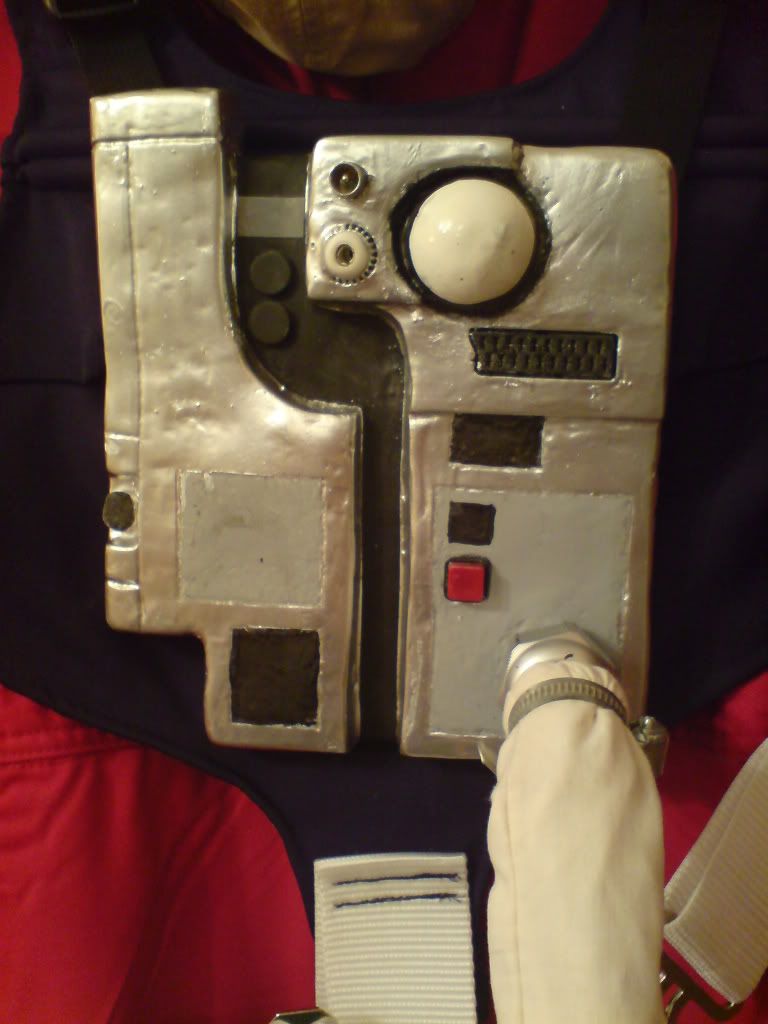 I made the hose by taking a length of garden hose and pulling it through a tube of cloth i made out of cotton bed sheet and secured with hose clips. The ends were plumbing connectors to enable the hose to be screwed onto the chestbox






THE FLIGHTCAP



An original ANH15, bought from eBay again!




TA DAA!!



There you go! Please ask if you have any questions and I'll answer the best I can!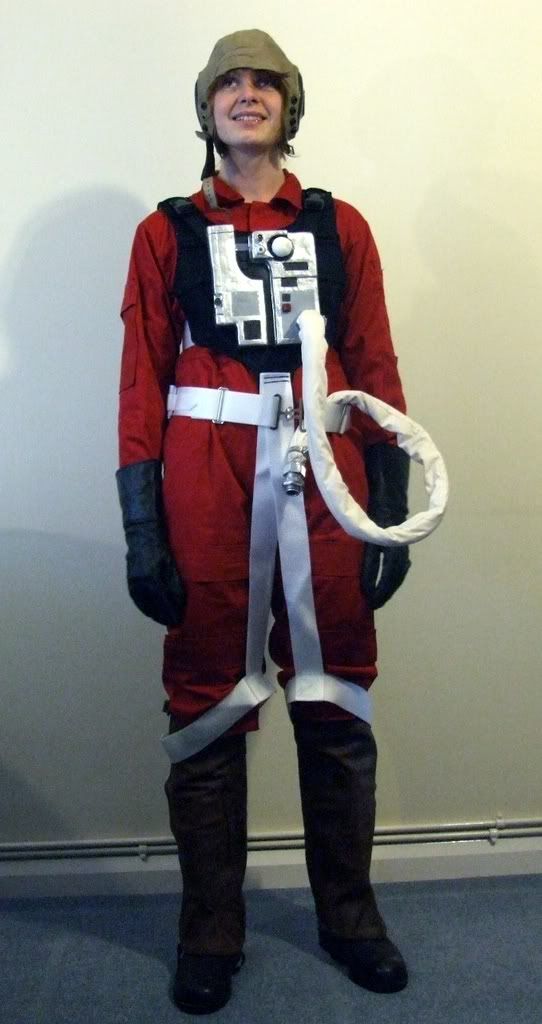 _________________


Sophie

Sophie

Add me on FB if you want to have a peek at my crazy life!
facebook.com/sophiestarwars

ANH Princess Leia Senatorial Gown 90% complete
DDC Defender sporting blaster Foetal stages

Slave Leia Bikini 5% complete (kinda)