Advanced Reconnaissance Commando, Standard Class, Clone Trooper (realistic)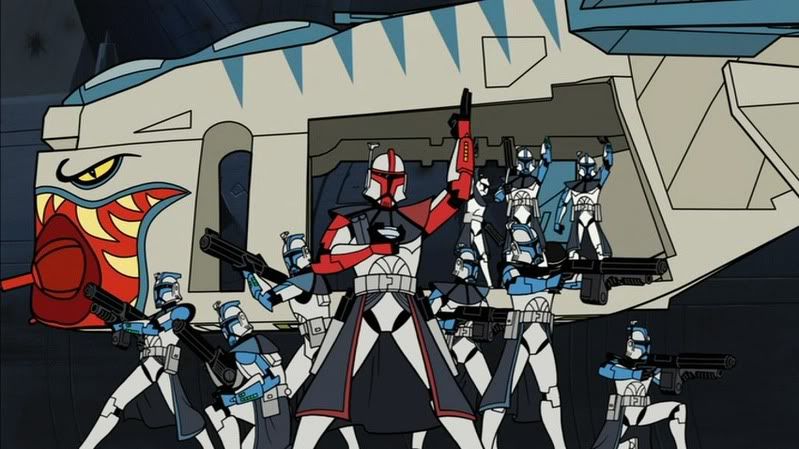 Required



NOTE: This clone wears Phase I (Episode II) armor with additional paint and accessories. Only the additional features are listed here.




Helmet


>Colored rank stripe around visor and down center of dome (Red=Captain / Blue=Lieutenant)
>Fett-style Range Finder on right side of helmet. Mounted

in

the ear, not to the outside. Stalk should be metal colored. Range finder should be white.


Armor



(2) Shoulders
>Rank stripe down the center

(2) Upper Arms
>Rank stripe on the outside of the bicep, located slightly more toward the front

(2) Elbows
>Rank stripe on outer half of elbow plate

(2) Forearms
>Raised left forearm includes metallic dart, 5 square yellow buttons on outer area and two buttons on inner area of forearm
>Rank stripe on upper/outside

(2) Handplates
>Rank stripes down center

(2) Knees
>Rank stripes down center


Pauldron


>ARC style pauldron
>Black with 4 panels over left shoulder painted to match rank color


Kama


>Charcoal grey
>Front/bottom corners should extend to bottom of knee plates
>2 triangular detail pieces at front/top
>Matching rank color trim, 1 inch wide

Optional



Pistols and Holsters

(Red ARC

only

)
>One holster on each hip, hanging from the belt
>Option A - 2 DC-17 Pistols
>Option B - 2 ARC Trooper pistols


Pauldron Option

(Red ARC

only

)
>2 or 3 black leather or leather-like ammo pouches hang from pauldron on right breast


Large Boba Fett-style belt pouches

(Blue ARC

only

)
>2 pouches or boxes hanging from opposite sides of belt at hips
>Pouches/boxes may be soft or rigid


Kama Option


>4 inch "V" cut in bottom/center


_________________
Would you like to know more?


Clones of the Republic (COR) Detachment Founder
Former Clone Trooper LCJ
TC-9927