For September, Endor Base's Member of the Month is none other than

Lebo1138

! Jason has been a wonderful addition to Endor Base with his huge willingness to go above and beyond to ensure that our events go smoothly and that the fans who come to see us are entertained.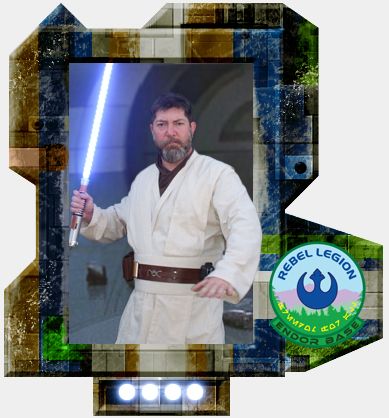 Tell us something about yourself:

I am just a simple Jedi trying to make his way in the universe. Born and raised in the New York system, just beyond the outter rim on Long Island. But moved to California in 2000. I have a wife and 2 kids and a dog - none of whom like Star Wars as much as me……..eh - - maybe the dog. I have always had an interest in cosplay particularly Star Wars. I just could never find a way to get involved. And the older I got - it just didn't seem reasonable that man in his late 40's could play dress-up. But 2 years ago I started to follow many cosplayers on Instagram. I made some connections and forever it dominated my path.




How long have you been involved with the Rebel Legion:



My one year anniversary with the RL is this month (September)




Positions held (past or present)?



None to date. Though I am a contributor to the Endor Base FB and IG pages.



What costume(s) do you have? Currently

Generic Jedi. And I have a Mandalorian Pilot with the Mercs.



What costumes do you have in the works (if any)?

I am upgrading my Generic Jedi to be more canon Kenobi (ROTS) and I am also working on General Kenobi from the Animated Clone Wars (season 3 - 6.5). I have many on my wish list - including some 501st and a few more RL costumes. We'll see what I can do. The older I get - and as the kids give me grey hair - it is only a matter of time that I make an old Ben and/or old Luke cosplay. I am also building a static BB-8




Do you have a favorite Troop/event:



Hospital troops are very special and dear to me. My son was born 2 months early and spent his first 5 weeks in the NICU. I know how much a hospital environment involving kids could use a smile once in a while. I am glad to do what ever I can to help in that situation. I also like the rock star all access treatment we get at Sporting Events. Oh and the Chevron Family Theater event was a lot of fun, this summer. Yah - - I like them all.




What is your first Star Wars memory?



I was 8 when ANH came out. I don't really remember the FIRST time seeing it. I just know I saw it - - a lot. I was obsessed. Back then there was no internet - no youtube. My family didn't have a VCR - -nor did I know anybody who had a bootleg version. So it was hard to get a Star Wars fix. I asked for the Star Wars soundtrack for my birthday - but my parents bought me the disco version. The only slight saving grace is it had R2 beeped and chirped in the middle of the song. I'd watch the making of Star Wars and marvel at Ben Burtt tapping power lines getting blaster sounds or how the blue screen worked. I'd watch the opening of a movie anthology TV show, hosted by Tom Bosley, called 'Thats Hollywood' - - just because they would show literally a 1.5 second clip of the Deathstar battle, during the opening credits. I'd take what I can get - and I could never get enough. It shaped my childhood and has always been a part of who I am. Before Star Wars there was Lost in Space - - but — you know - - - Star Wars changed everything.




Favorite Star Wars movie:



Empire is my favorite. But it also depends on my mood. Revenge of the Sith or The Force Awakens are usually my go to movies if I am in the mood to watch Star Wars.




Favorite Star Wars Character:



Obi Wan Kenobi, Luke Skywalker, R2D2, BB8 and Rey.


Any

Social Media/Business to plug??



I am on Instagram. @Lebo_Wan_Kenobi give me a follow. I am a little boring, have cute kids - and mildly witty.
_________________


Endor Base Commanding Officer 2015-2018



Proudly serving the Rebel Legion as Jek Porkins, Willrow Hood,
RFT Gareth Ward, Jedi Knight Wren and 3 Yavin Trooper Techs!

Member of K.J.O. - R.L.S.C. - U.C.G.R - R.A.I.D.